The Society for American Baseball Research invites new members. Join now!

Chapter Steering Committee
Dan Boyle, President
Andy Strasberg, Vice President
David Kinney, Treasurer
Tom Larwin, Secretary
Pete Meisner, Liaison - Public Library
Jay Walker
Greg Funk
John Green
Michael Metzger
Anna Newton
Bob Hicks, webmaster

To view PDF files, Acrobat® Reader® is required.

Summary of Programs and Projects, as of Spring 2009
The San Diego Ted Williams Chapter of SABR (Society for American Baseball Research) was initiated in 1990. Most of the activities of the Chapter relate to the regional meetings that are normally held twice each year, in January/February and July/August. In addition, our Chapter has completed several unique research projects. A summary of Chapter programs, projects and special events is provided below.
All-Time Padres Team, by Position, Pacific Coast League (PCL) and National League (1996) - our Chapter was asked by the San Diego Padres to provide our selections for all-time PCL and National League Padres teams, and the list was featured in an article in a 1996 summer edition of Padres Magazine.
Baseball Film Series (1998) – this was a related part of our City of San Diego Library Project and was held at the downtown San Diego library. It was a four-film series (i.e., four different full-length films) held during April (one night each week for four weeks). The movies presented a range of eras and types: "Headin' Home" with Babe Ruth, "Stealing Home" with Jodie Foster & Mark Harmon, "Damn Yankees" with Tab Hunter, and "Fear Strikes Out" with Anthony Perkins.
Baseball Hall of Fame Electronic Field Trip (2005) – four Chapter members participated with Hall of Famer Ozzie Smith and representatives from the National Baseball Hall of Fame and Museum in an educational forum for students from San Diego's High Tech High related to 19th Century Baseball. The purpose was to help students with research for a radio program they will produce in spring 2005 on the subject.
Baseball Hall of Fame Partnership (2006) – in 2006 our Chapter acquired over 200 microfilm files from the National Baseball Hall of Fame. These files can be accessed in our Baseball Research Center Guide (Microsoft Excel), and include:


| | |
| --- | --- |
| | The Sporting Life (1883-1917) and Baseball Record (1885-86) |
| | Black Sox scandal records (1914-1969) |
| | Major League Baseball player questionnaires (1940s-1980s) |
| | Tom Burlin Collection of Questionnaires |
| | Official Averages, various leagues (1880s-1890s) |
| | Minor League Contract Cards (ca. 1900-1980) |
Baseball Reliquary Exhibit and Presentation (2003) – we coordinated with Terry Cannon, head of the Baseball Reliquary, to organize an exhibit of baseball artifacts in our central San Diego Library along with memorabilia from the Reliquary's permanent collection. Cannon also presented a slide show and video tape of unique baseball items and past Reliquary events, and the event concluded with Anne Oncken performing old-time baseball songs on the piano.
"Books on Parade" (1992-current) – this review of new baseball books has been a periodic feature at our meetings. This review has been held at various meetings and has involved numerous members. The purpose is to provide first-hand information on new books before you buy the book!
Book Sales and Raffles (1996-current) – at most of our regional meetings we have book sales and raffles.
Boynton Baseball Research Award (2002-2004) – initiated in 2002, and named in honor of founding Chapter member Bob Boynton, this award is given to recognize baseball research conducted by San Diego County High School students. Awards given to date:


| | |
| --- | --- |
| | 2002—to Martha Aquilar (Vista HS), "A Look at the Creation of Modern Baseball, The Formation and Contributions of the Negro Leagues" (view HTML, view PDF) |
| | 2003—Nathan Hicks, (Ramona HS), "If You Build It, Will They Come?" (view HTML, view PDF) |
| | 2004—Nathan Hicks (Ramona HS), "Ted Williams, The Last .400 Hitter...Ever?" (view HTML, view PDF) |
Comprehensive Game Reports (1998 and 1999) – we produced this entitled Facets of the Diamond: An Examination of One Game From Many Angles, May 13, 1998. There were written contributions from eight Chapter members who attended a Padres-Mets game on May 13, 1998. The articles were from the different perspectives of each member. Individual scorecards are included, along with media reports. Also included is various information surrounding the game of a "behind the scenes" nature. A second report was published the next year that covered a game on May 11, 1999 between the Padres and the Marlins.
Focused Interviews (1998, 2001, 2003) – we have had a single subject regional meetings where the subject was interviews with Hall of Famer Jerry Coleman (1998) and Buzzie Bavasi (2001; view HTML, view PDF) conducted by SABR member and local broadcaster, Bob Chandler. Coinciding with the meetings, reports were prepared that contained biographical material of their multi-faceted careers.
"How to do Research" (1998) – this was a panel of four Chapter members discussing their various research interests, and tips on how to do research.
Interview with Umpire Doug Harvey (2009) – on January 2000, former National League umpire Doug Harvey was interviewed at our regional meeting. The full interview was transcribed and can be found HERE.
Joint Meetings with the Allan Roth (Los Angeles) Chapter at 'The Diamond' in Lake Elsinore (1996,2002) – in May 1996 we had a joint meeting at The Diamond ballpark and then stayed for a minor league game between the Lake Elsinore Storm and Modesto A's. Activities included: a tour of the ballpark by Storm General Manager Kevin Haughian, a discussion with Storm 1B/OF Tony Moeder, and a presentation from Cece Carlucci, former PCL umpire. Our 2nd joint meeting was held at The Diamond in May 2002 and Storm Manager, and former major leaguer, George Hendricks headed the program.
Lane Field Historical Marker (2003) - our Chapter raised monies for a marker that has been placed at the site of Lane Field, home of the Pacific Coast League (PCL) San Diego Padres, 1936-1957. Former PCL Padres player Max West joined as for the dedication ceremony in March 2003. The marker is located at the corner of Pacific Highway and Broadway in downtown San Diego.
Major League Players Living in the San Diego Region (2008) – this is a list, in Excel format, of MLB players (and managers, coaches, and umpires, too), past and current, who are living in the San Diego region—a total of 178 (current through the start of the 2007 season). The table has information on their first year and last year in the big leagues, how many MLB games they played, and their zip code and community of residence. Check it out at our Chapter's web site — it can be found on the bottom of the "research center" page or by clicking HERE (Microsoft Excel).
Most Influential in San Diego Baseball During the 1900s (2001) – this report (view HTML, view PDF) was published in early 2001 and listed the 26 most influential individuals in San Diego baseball history during 1900-1999. This list was the result of a survey of Chapter members.
Participation with the Padres at their "1st Pitch Weekend" (1997, 1998, 1999) – we have had an informational booth at several of these fan events, promoting SABR, selling publications, and raffling off certain items for fund raising to support our library project.
Presentations by Authors (1996-current) and ongoing) – at our regional meetings we have invited authors on a wide variety of baseball subjects to participate in a presentation on their book. Here is a list of authors who have joined us at our meetings:


| | |
| --- | --- |
| | Todd Anton, author of a book entitled No Greater Love: Life Stories from the Men Who Saved Baseball |
| | Jean Ardell, author of Breaking into Baseball, Women and the National Pastime |
| | Larry Baldassaro, editor of the book, Ted Williams: Reflections on a Splendid Life |
| | Matt Dahlgren, grandson of former player Babe Dahlgren, author of Rumor in Town |
| | Susan Dellinger, granddaughter of Hall of Famer Edd Roush, author of Red Legs and Black sox: Edd Roush and the 1919 World Series. |
| | Arnold Hano, author of A Day in the Bleachers and numerous other books and articles |
| | Tammy Lechner, photojournalist author of In the Cal, about the California League, and Our Team-Our Dream: A Cubs Fans' Journey Into Baseball's Greatest Romance |
| | Author of numerous English-language books, Richard Lederer |
| | Jon Light, author of Baseball Cultural Encyclopedia |
| | Phil Lowry, author of a comprehensive summary of ballparks entitled Green Cathedrals |
| | Kerry Yo Nakagawa, author of the book entitled Through a Diamond, 100 Years of Japanese American Baseball. |
| | Kadir Nelson, artist and author of We Are the Ship: The Story of Negro League Baseball |
| | Bill Nowlin, author of Ted Williams at War |
| | Joe Price, author of Rounding the Bases: Baseball and Religion in America |
| | Andy Strasberg, co-author of Baseball's Greatest Hit: The Story of 'Take Me Out to the Ball Game |
| | Josh Suchon, who covers the San Francisco Giants for the Oakland Tribune and author of the book titled, This Gracious Season: Barry Bonds & The Greatest Year In Baseball |
| | Bill Swank, author of several historical books on the history of baseball in San Diego, and the PCL and NL San Diego Padres |
| | Jim Vitti, author of the award-winning The Cubs on Catalina |
Presentations from Present and Former Baseball Executives, Managers, Coaches, Players, Agents and Umpires (1990-current) and ongoing) – our regional meetings have included informal presentations from the following:

National Baseball Hall of Famers:

Jerry Coleman (Broadcaster)
Ralph Kiner
Phil Collier (Writer)

Former Major League Players/Managers/Coaches/Umpires:

Bruce Bochy
Ray Boone
Pete Coscarart
Warren Cromartie
John Curtis
Dave Garcia
Jack Harshman
Doug Harvey
George Hendricks
Terry Kennedy
Wendell Kim
Irv Noren
Rob Picciolo
Rudy Regalado
Merv Rettenmund
Ed Runge
Bob Scanlan
Norm Sherry
Ted Simmons
Dave Stewart
Team Executives:


| | |
| --- | --- |
| | Buzzie Bavasi (Former Padres GM & Excutive for Other Teams) |
| | Eddie Epstein (Padres SABRmetrician) |
| | Andy Strasberg (Padres Vice President) |
| | Charles Steinberg (Padres Vice President) |
| | Priscilla Oppenheimer (Padres Minor League Director) |
| | Doc Mattei (Padres Traveling Secretary) |
| | Dick Freeman (Padres President) |
| | Juan Lara (Padres Assistant Director of Player Development) |
| | Jeff Kingston (Padres Director of Baseball Operations) |
| | Gilly Reckler (Padres Front Office) |
| | Paul DePodesta (Padres Special Assistant for Baseball Operations) |
| | Ian Cohen (Surf Dawgs) |
| | Michael Stevens (Surf Dawgs) |
| | Warren Miller (Padres Director of Media Relations) |
Miscellaneous Guests:


| | |
| --- | --- |
| | National Baseball Hall of Fame President, Dale Petroskey |
| | Scout, Mike Wallace |
| | Former part-owner of the Padres, Mike Monk |
| | Player agent, Bob Teaff |
| | Radio/TV Broadcaster, and author of Tales of the San Diego Padres,Bob Chandler |
| | Former Padres Batboy, Eric Nelson |
| | Chuck Symonds, former Batboy for the 1945-51 Oakland Oaks |
| | Lake Elsinore Storm players Tony Moeder (1996), and Bobby Scales (2001) |
| | Joe Villarino, 1936 Hoover High School (teammate with Ted Williams) |
| | Mesa Arizona Tribune Beat Writer, Ed Price |
| | All-American Girls Professional Baseball League player Alice "Lefty" Holmeyer |
Research and Member Presentations (1990-current) - our regional meetings have offered dozens of presentations by members and others summarizing unique baseball research they have completed. Some of the topics have included:
San Diego Ballparks as a Reflection of Urban Patterns in the City: 1936-1968
Moe Berg and the 1934 All Star Team Tour in Japan (Fred Rodgers)
"Push-button Joe" McCarthy and the D-Score
Al Autry: A One-Game Wonder (Bob Boynton)
1907 Pacific Coast Championship Series (Tom Larwin)
Home Run King and San Diegan, Gavy Gravath (Bill Swank)
Replacement Players of 1912
Memories of PCL Outfielder and Manager, Cecil Durst (Autumn Durst Keltner)
100 Walks and Sub-par Batting Average
Win Shares and the Parabolic Course of Baseball Lives (Bob Boynton)
What if Ted and Joe Had Stayed Home?
My Day as Baseball Hall of Fame President (John Green)
Team Performance After Major Personnel Changes
Integration of the Pacific Coast League in San Diego, 1948 (Amy Essington)
1936 PCL Padres (Dan Boyle, Tom Larwin, Frank Myers)
Is Home Field Advantage in the World Series Everything? (Matthew Schugart)
From the Cellar to the Penthouse
San Diego City Father, George Marston (Mike Epstein)
Extrapolated Runs, Extrapolated Wins
Christians in Baseball History: A Starting Line-up (James D. Smith III)
Three Hours Instead of Five: Playing a 2000 World Series game at the 1948 Pace (Bob Boynton)
Behind the Scenes at the Filming of the HBO Movie '61 (or, "Billy Crystal, Mantle, Maris, and Me, The Making of '61") (Andy Strasberg)
My Family's Relationship with Ted Williams (Denny Fallon)
Taking Your Glove Off the Field, The History Behind the Rule (Tom Larwin)
San Diego Baseball History (1993) – this is a report that the Chapter prepared in support of the SABR 23 National Convention held in San Diego in June 1993. There were a number of articles covering all aspects of baseball in San Diego.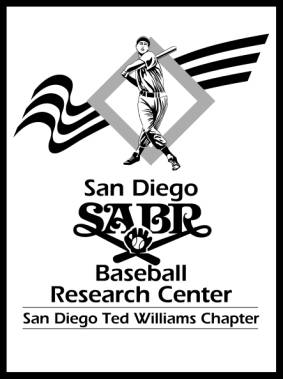 San Diego SABR Baseball Research Center (1997-current) — we have developed a partnership with the City of San Diego Library system to house the Center in the downtown library. Major acquisitions were initiated in 2001. A Guide has been prepared to assist researchers and is available by going to the following Link. In addition, a major partnership with the Baseball Hall of Fame has led to acquisition of unique research materials.
San Diego Padres (NL) Box Score Scrapbook Project (2002-current) – this project was initiated to update a collection of box scores for every game played by the NL Padres that was maintained by former PCL Padres player an NL Padres coach Whitey Wietelmann from 1969 through 1993. Several members collaborated to make copies of box scores for games from 1994 to the present.

San Diego Padres PCL (Pacific Coast League) Hall of Fame (2005)


In June 205, the PCL Padres Hall of Fame was unveiled in the PCL Bar & Grill within Petco Park. The unveiling was a culmination of a process initiated by our Chapter in 2004. We reinvigorated the dormant PCL Padres Hall of Fame and completed selection of players from the Westgate Park era. Plaques of each Hall of Fame member displayed.

The 27 players who make up the roster of the PCL Padres Hall of Fame are:


Earl Averill (C, Inf.,OF, 1957-58)
Dom Dallassandro (OF, 1938-39)
Jim (Tiny) Chaplin (P, 1937,38)
Bobby Doerr (2B, 1936)
Cedric Durst (OF-Mgr., 1936-43)
Earl Rapp (OF, 1953-57)
Luke Easter (1B, 1949, 1954)
Ray Ripplemeyer (P, 1962-65)
Jesse Gondor (C, 1962)
John Ritchey (C, 1948-49)
Jack Graham (1B-OF, 1948, 1950-52)
Chico Ruiz (Inf., 1962-64)
Tommy Harper (3B, 1962)
Frank Shellenback (P-Mgr., 1936-38)
Wally (Preacher) Herbert (P, 1936-42)
Harry Simpson (OF, 1950, 1960-61)
Deron Johnson (Inf., OF 1963)
Yank Terry (P, 1941)
Lee May (OF, 1965)
Rupert Thompson (OF, 1937, 1944-46)
George McDonald (1B, 1936-44, 1946-47)
Max West (1B, OF, 1947, 1949-50)
Steve Mesner (Inf., 1940, 1948-49)
Bill Wight (P, 1954)
Minnie Minoso (OF, 1949-50)
Ted Williams (P-OF, 1936-37)
Tony Perez (1B, 3B, OF, 1963-64)

In addition, there are seven individuals in the PCL Padres Hall of Fame representing owners and other non-players:
Les Cook (C-Trainer, 1936-68
Al Schuss (team's radio announcer from 1948 until their last year in 1969)
Earl Keller (P, 1937,38)
C. Arnholt Smith (Onwer, 1955-68)
Bill Lane (Owner, 1936-38)
Bill Starr (C, 1937-39, Owner 1945-56)
Eddie Leishman (GM, 1961-68)
San Diego Surf Dawgs Partnership (2005-2007) – the Surf Dawgs were a charter member of the Golden Baseball League, an independent league with teams in California and Arizona. Chapter representatives met with League executives and Surf Dawgs management and have established an archival collection of material that is stored in our Baseball Research Center. We also combined a regional meeting with a Surf Dawgs game in August 2005.
Ted Williams, "The Kid" from San Diego (2003, 2005) - we organized a day-long meeting at the San Diego Hall of Champions celebrating the life and baseball career of San Diego's Ted Williams. A wide-ranging group of presentations were given covering Williams's military service, his baseball camp, and his minor and major league career. Former major league players Ray Boone, Jack Harshman, and Max West formed one panel. In addition, some of Ted's boyhood friends and relatives participated in two other panels. Well known baseball authors Bill Nowlin and John Holway also made presentations. A book resulted from the symposium is a book entitled The Kid: Ted William in San Diego and was published in 2005 (Rounder Books). Bill Nowlin was editor and seven Chapter members participated in the writing: Carlos Bauer, Dan Boyle, Tom Larwin, Joe Naiman, James D. Smith III, Bill Swank and Jay Walker.
Trivia Contests (1990 and ongoing) - most of our regional meetings feature trivia contests that serve to educate and entertain – and, to reward the winner with some baseball-related gift.
"Up for Grabs (2006) - this program featured a showing of a 90-minute film on the subject of ownership of the Barry Bonds' record-setting 73rd home run ball in 2001. Following the showing we had a five-person panel discuss various aspects of the controversy.